Staging and listing preparation
Staging
What is staging? Some people think that home staging is when a designer comes to your home, empties everything and replaces it with expensive rental staging pieces. While this is one option, it a common misconception to what staging a home really means.
"Staging" is simply the act of preparing your home for market, with thought and emphasis on what can be done to make the property as appealing as possible to the highest number of potential buyers. Homes that have been carefully staged look so much better in photos, especially when you have an agent who has access to top photographers. Almost every house benefits from a bit of staging at least—if we were to list our own home there are things that we would need to do first. (And we are two Type A Virgos! 🙂 ) Many agents will not offer staging advice, nor physically help you stage your home. We believe in staging so much that we do both! We take the time to go through your house with you, compile suggestions, and do everything we can to assist you in readying your home for the market. In addition, we will provide items needed to ensure your home shows like a dream!

Here's how it works— after the listing agreement has been signed, we will schedule an appointment as soon as possible to do a very thorough walk through, and compile a list of what needs to be done to get the property in tip-top shape. At this appointment you will be guided on what might help increase the chances of your home being sold quicker and for potentially more money. You always have the choice on whether or not to follow our suggestions—and we want to be cognizant of any time or monetary constrictions you may have.
Then, we will make a list of things that we can do/bring to make the property look as great as possible. I (Hilary) have been trained in staging property, and we have over 500 square feet of storage dedicated to staging "filler items" if needed to make your home look picture perfect. What are filler items? Artwork, kitchen items, towels, bed sets, curtains, knickknacks and more. Although we don't bring in furniture, we are quite adept at working with what you have, and attempt to compliment the decor style-wise. Many agents do not offer this perk at all, and others insist you pay for a staging consultation (generally in the hundreds of dollars), not to mention the costly monthly staging rentals (potentially several thousand dollars). With us, it is included as a valuable part of the service we offer. When you have the house in good shape, we will make a second appointment to come back and do the staging "install" (usually a day or two before the photo shoot). On this day you don't need to be there—Jay and I will arrive in our staging cargo van and handle everything!
Does this sound like a lot of work? Well, yes. But we firmly believe that doing this will give your home an advantage. We generally stage for the photo shoot and then leave items in the home for at least the first two weeks (when we anticipate the most buyer activity). Sometimes, we may be able to leave the items in the home for a longer period of time, depending on our current staging inventory.

Another alternative that we can provide (at NO additional charge), is digital staging.This is a newer method that can sometimes yield pretty fabulous results. At the time of our initial meeting, we can discuss which option will best suit your property.
Hilary and Jay of Long Realty Company are thrilled to be among the top real estate agents in Oro Valley, AZ. We also proudly serve the surrounding areas of Marana, Catalina and Tucson. Want to sell a home in Oro Valley? Interested in learning more about buying and selling real estate in Tucson and the surrounding areas? Want to know how much your Tucson, Marana, Catalina or Oro Valley home is worth? We are here for you.

(The above photos were the MLS photos from the previous agent, and used with permission. The large photo is after a bit of staging and professional photos.) This property in SaddleBrooke was vastly improved by the owner having the carpets cleaned and repainting the interior. We then came in and took down the old dusty red drapes, replacing them with white sheers to let in the light. After adding a floor vase and art, this home was ready for showings. Much more inviting!
The kitchen in this same property definitely benefits from a few items for pops of color.
As you can see, a fresh coat of paint and some items from our staging inventory really up the "cheerful" quotient! The home doesn't appear as vacant and blah as it did in the previous photos.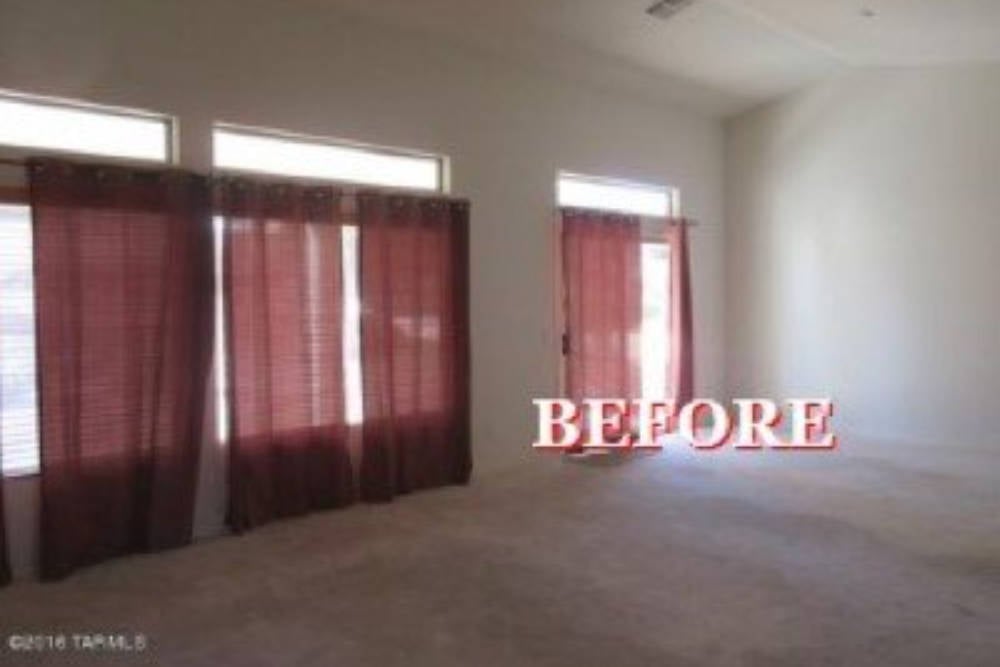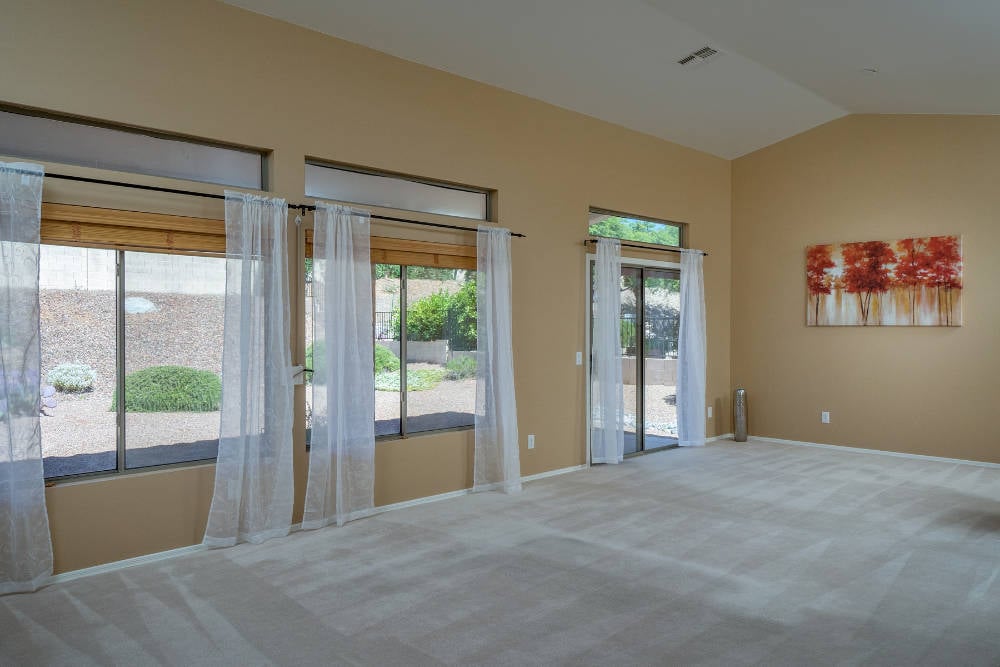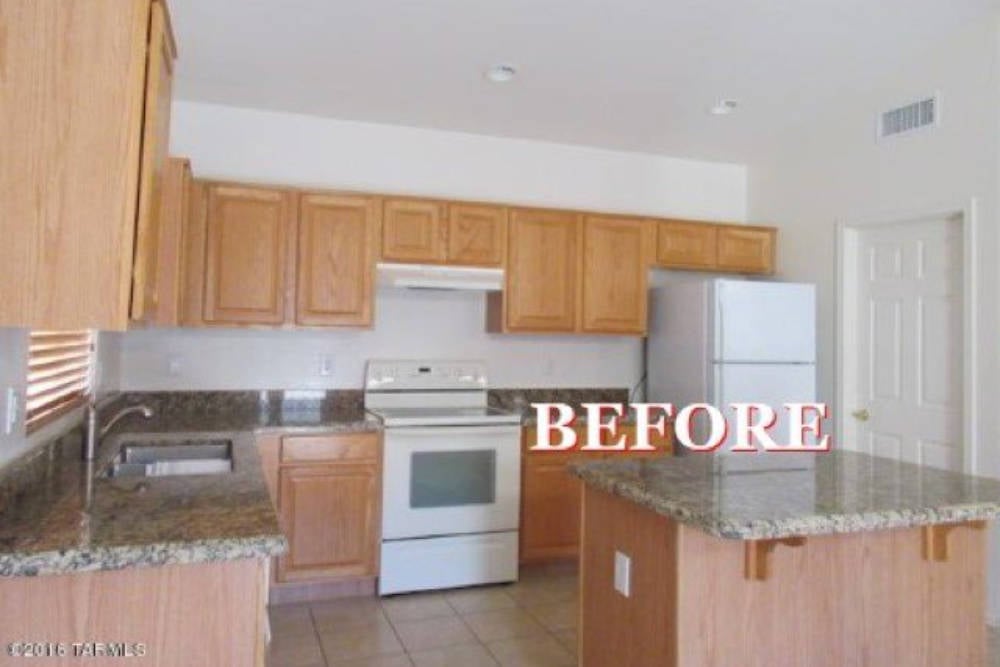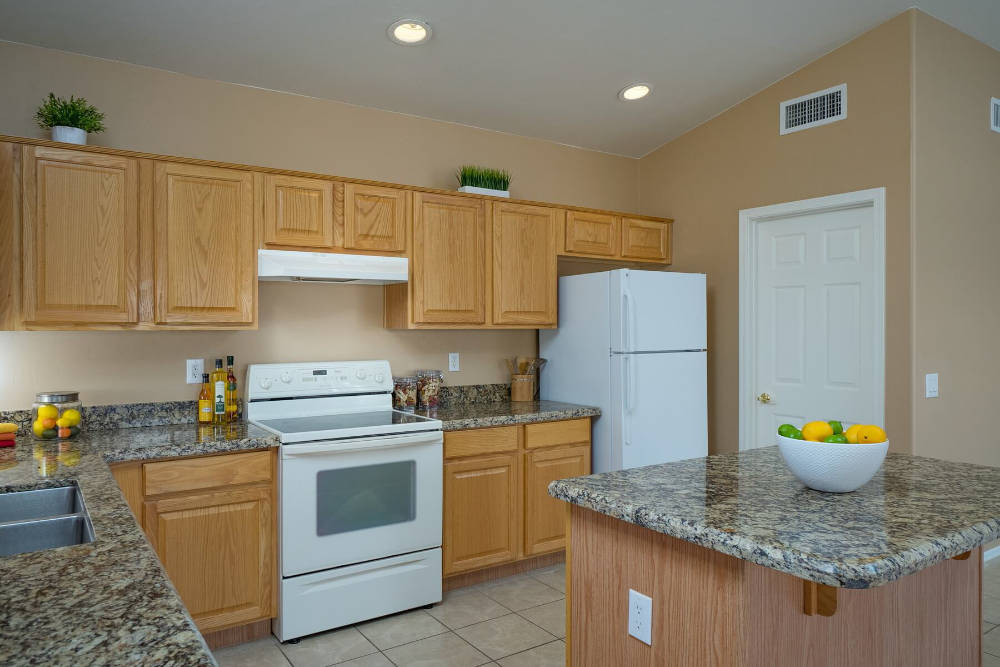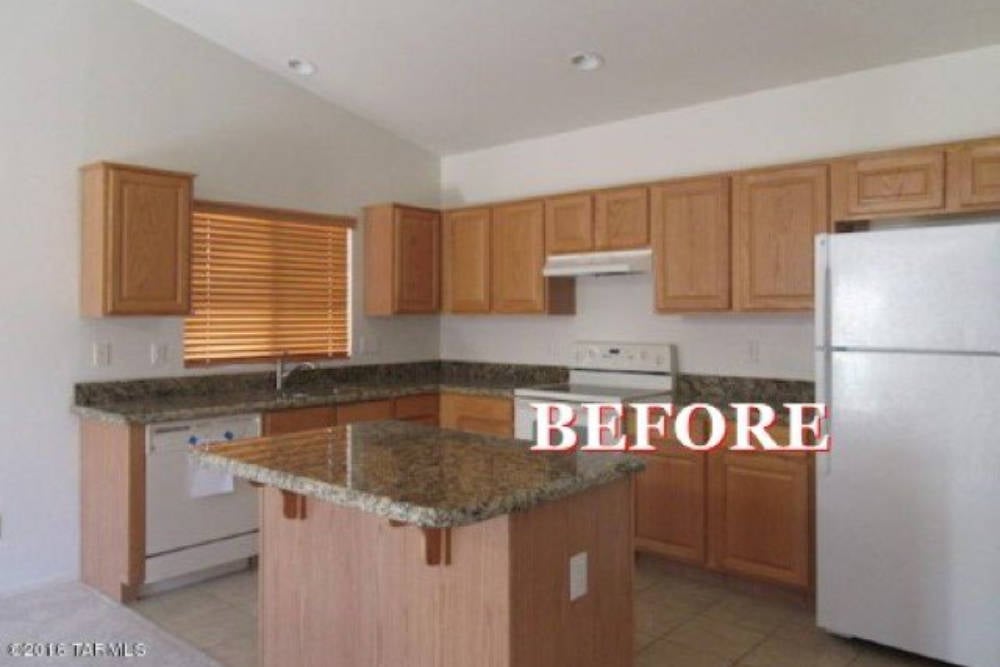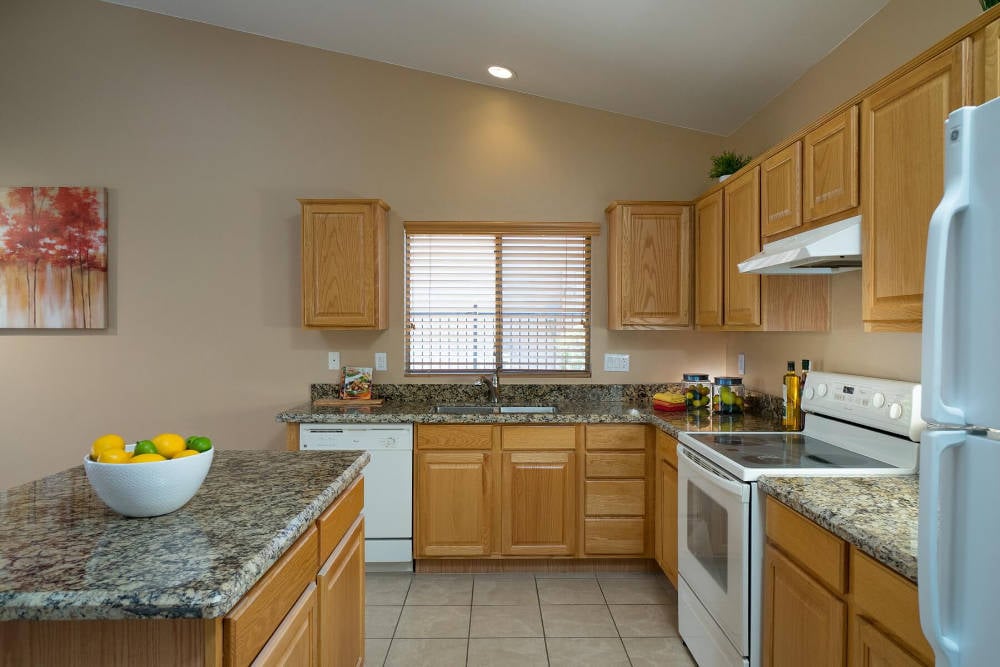 The bathroom below really needed assistance! Painting and cleaning made a world of difference, and adding the shower curtain, art and knick knacks turned it into a much more inviting environment.
Here is a bathroom in Heritage Highlands that was transformed with just a few items. (This was a winter house that the owners decided to sell and were unable to return to get it ready—we had someone pack up all the personal items to go into a "pod" for shipment.) By banishing the huge gecko (I am not a fan of reptile wall art above the tub), the rug in front of the cabinet (also not a fan of carpet on carpet look) and packing away the owner's personal items we then had a clean slate to work with. Some art with color, clean towels and a few bathroom appropriate knickknacks later, this room was photo-shoot ready.
For this bathroom, swapping out the art, towels, shower curtain and knickknacks was easy but yielded a big return aesthetically. Shooting when there was still a bit of light coming through the window was also was crucial.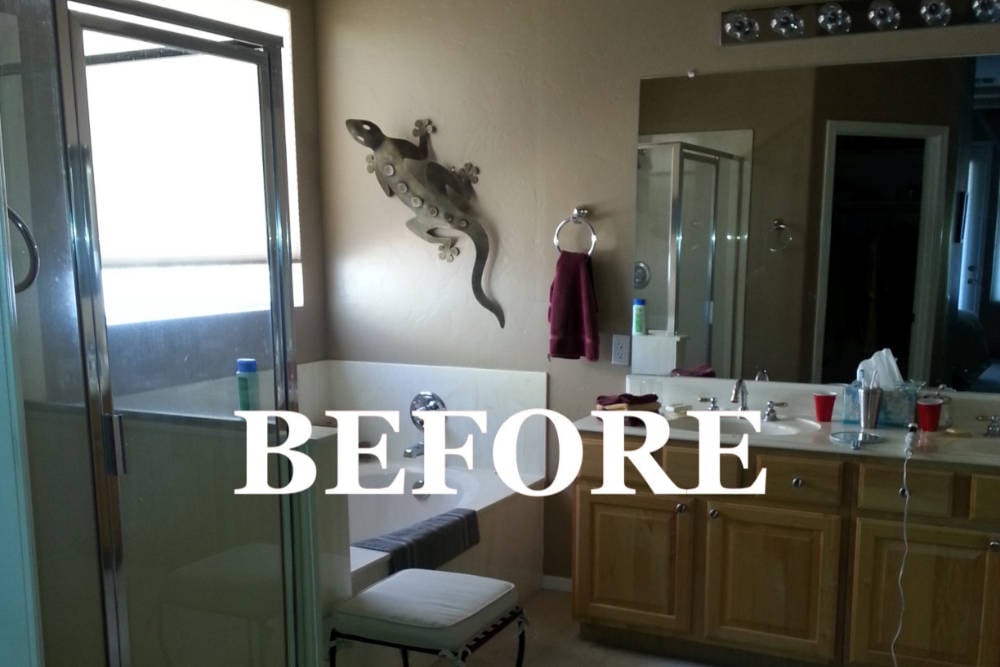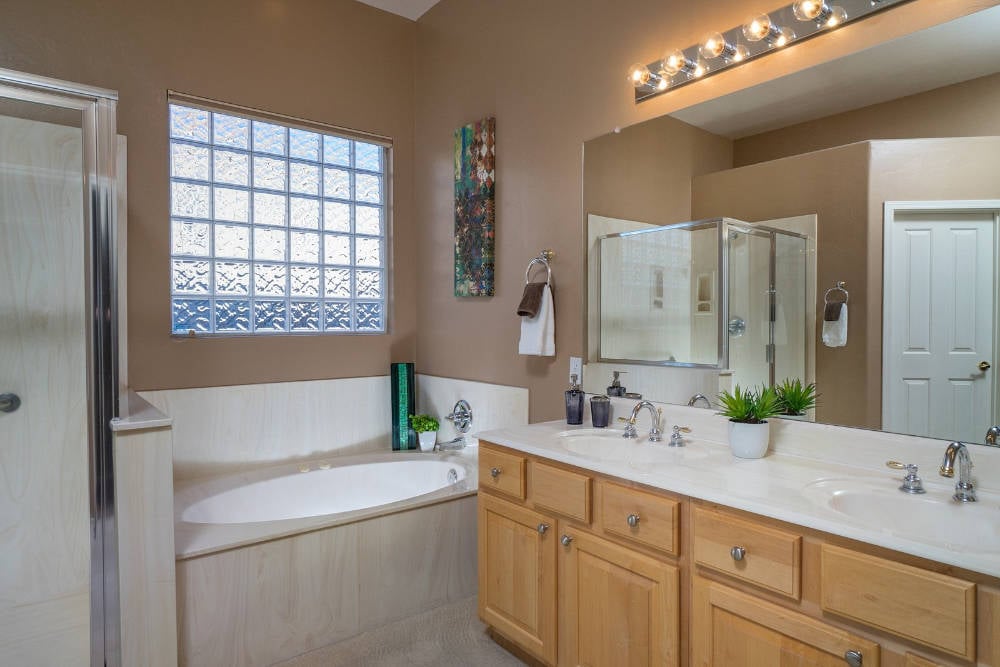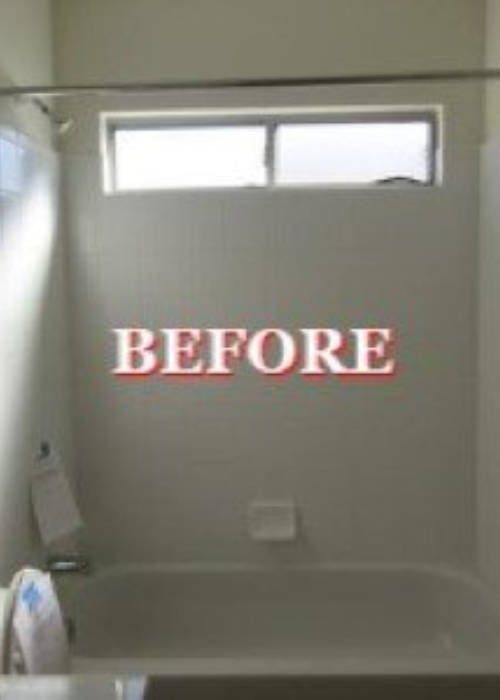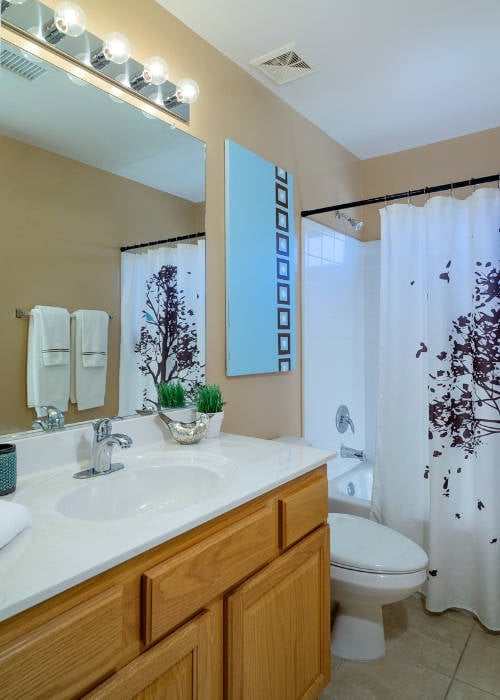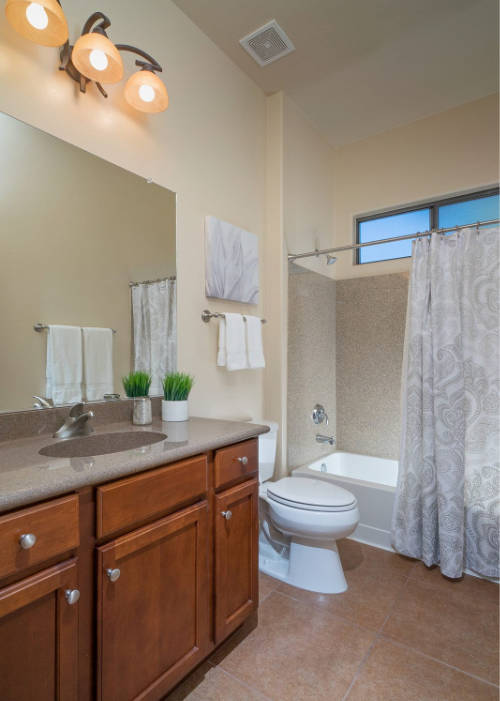 For this kitchen, we replaced the curtains and added decor items and art. I think it shows beautifully—and apparently so did a few other people. The home had a ton of showings and multiple offers within days of listing.
This same property had two bathrooms that also reaped the rewards of a little thought and staging. You are probably really starting to see the value in our staging services, but keep scrolling!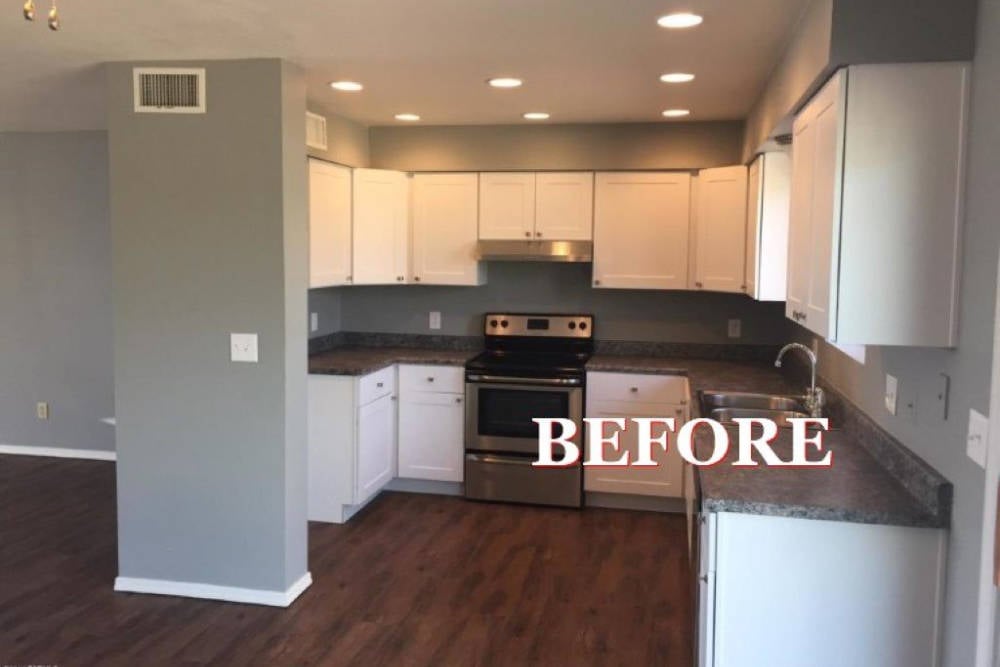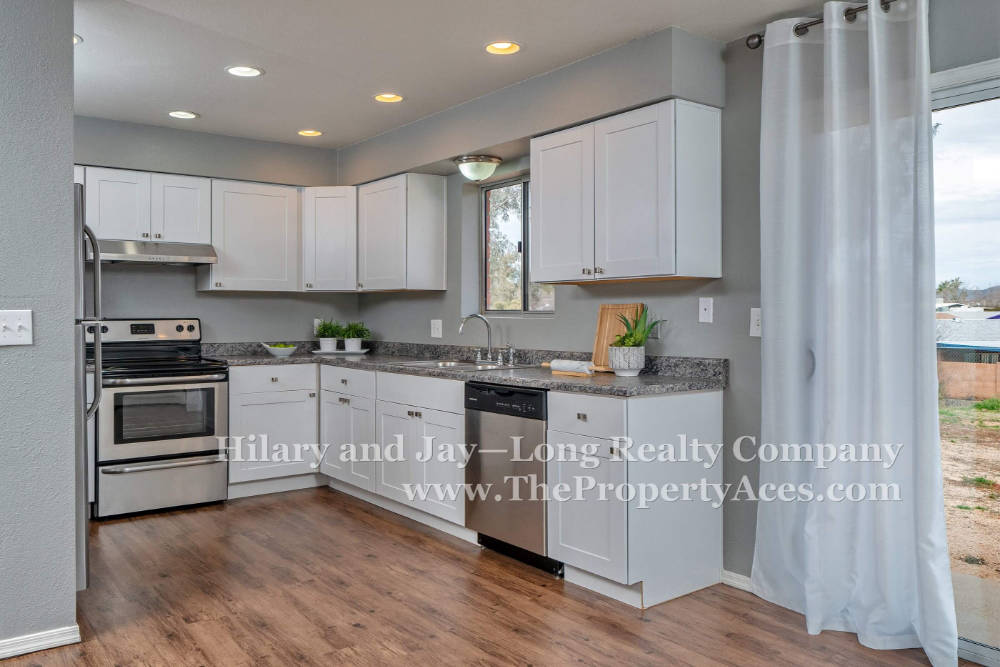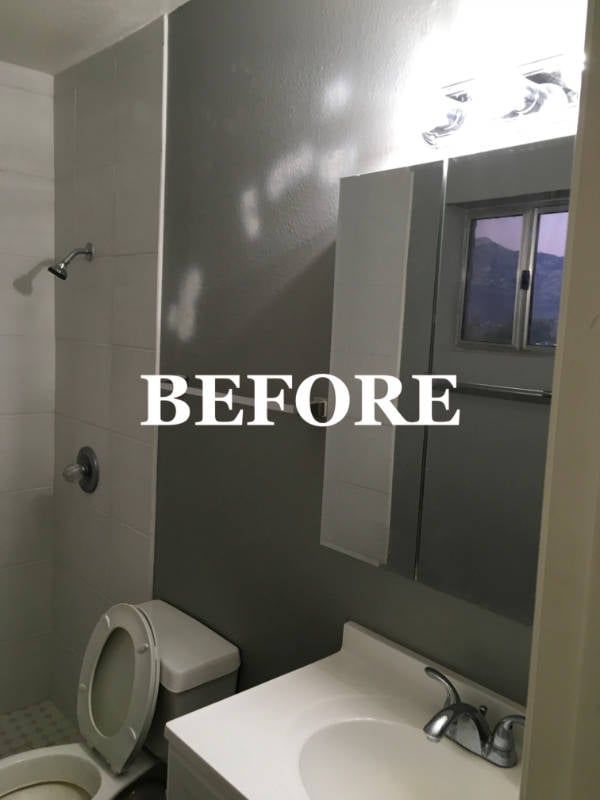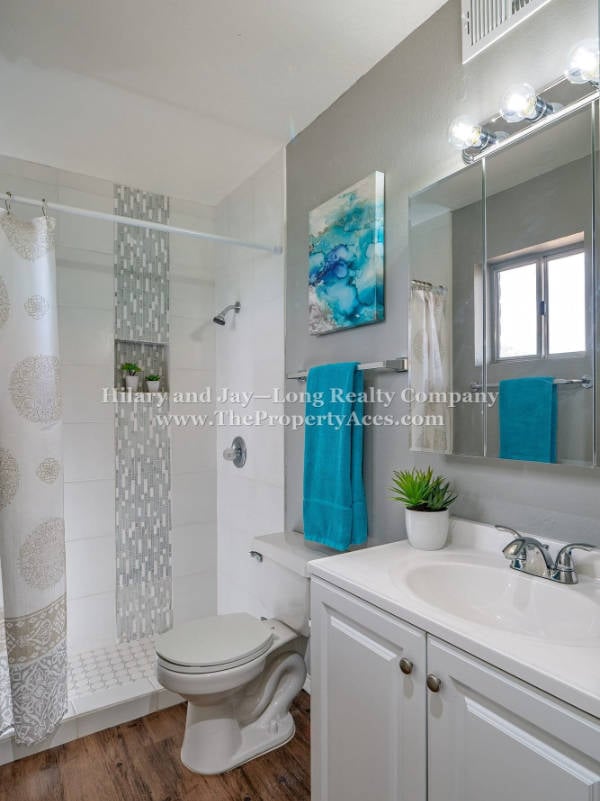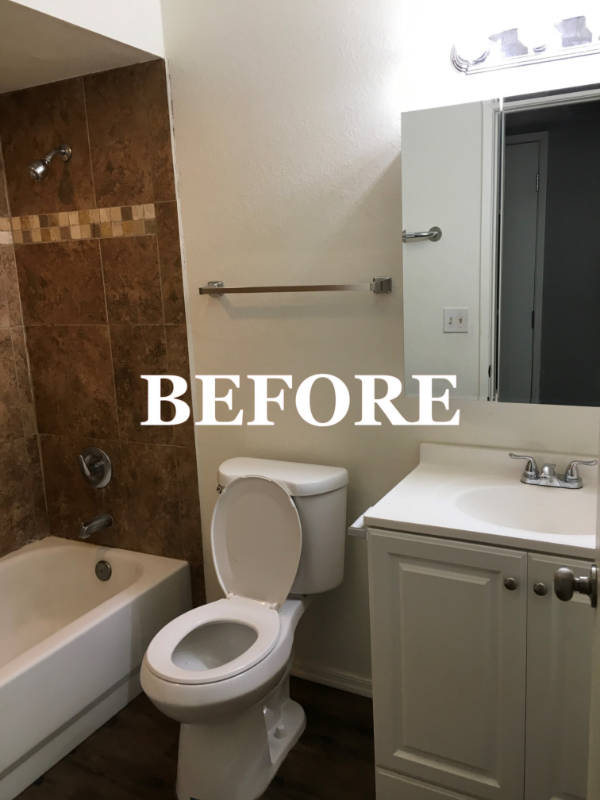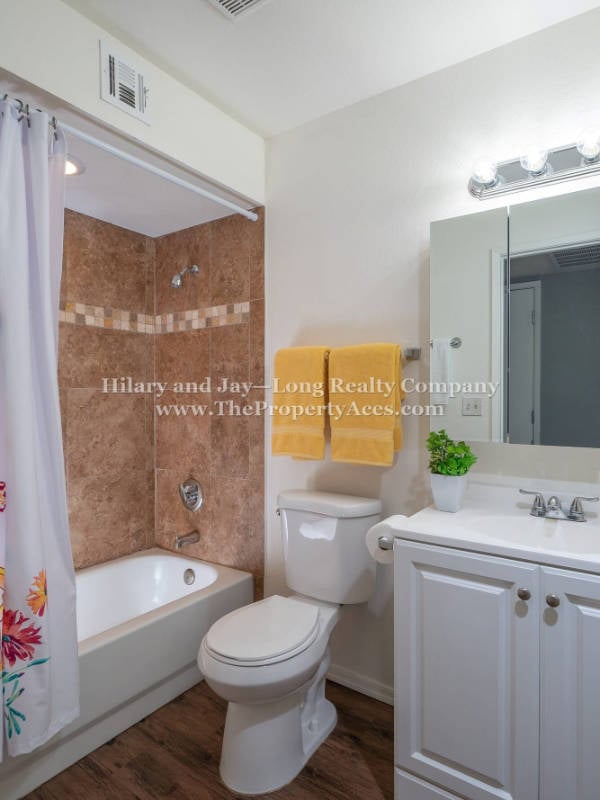 More times than not, people are anxious to get their home on the market as soon as possible. There are agents that will absolutely walk into your property, jam a listing agreement at you, give a cursory look at your house and tell you all is good, snap some photos with their cell phone or digi cam and plop a sign in your yard, launching it on the market with sub-par marketing that does nothing for your home.This is categorically NOT how we operate.
In all our years of selling real estate, through hundreds of home sales, I can honestly say that there have been THREE homes that we walked in for a listing appointment that were picture perfect and 100% ready for photos THAT DAY. While many homes were close, pretty much EVERYONE'S home benefits from a few tweaks before going on market. There have been times that we arrived to a client's home and told that they want photos taken immediately. Even though we risked losing the listing, we asked (begged) them to reconsider, and allow them time to prepare the home, and for us to stage it. Below you can see how WAITING and preparing things properly will help enhance your property.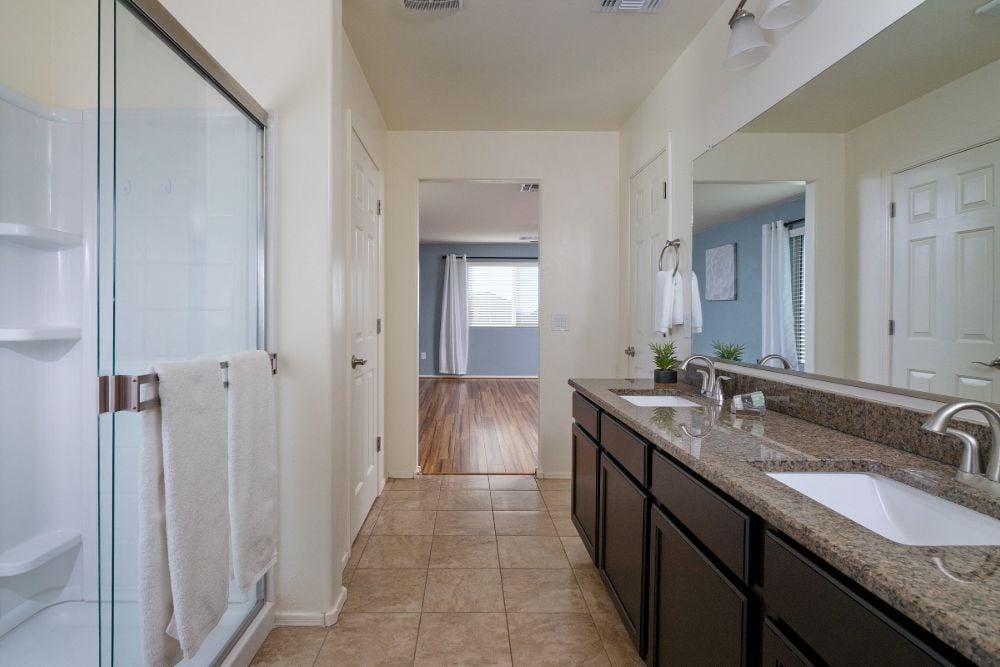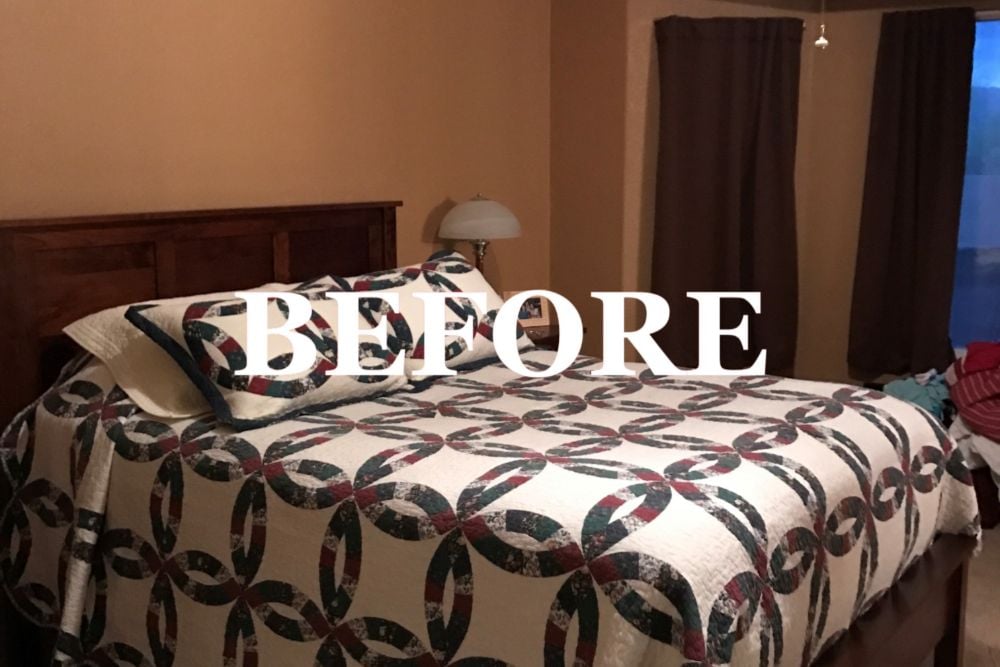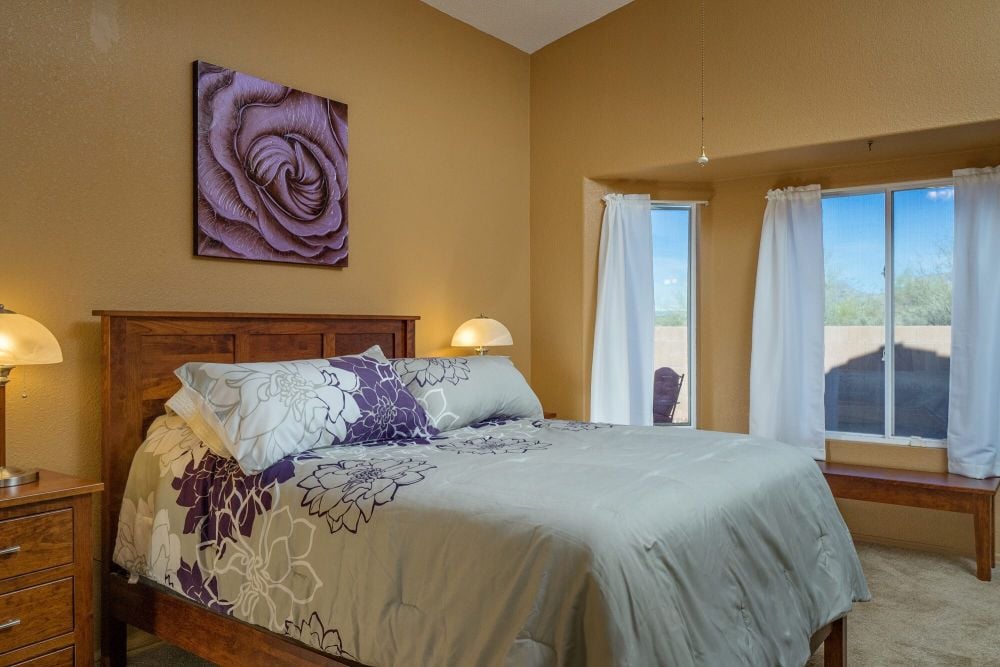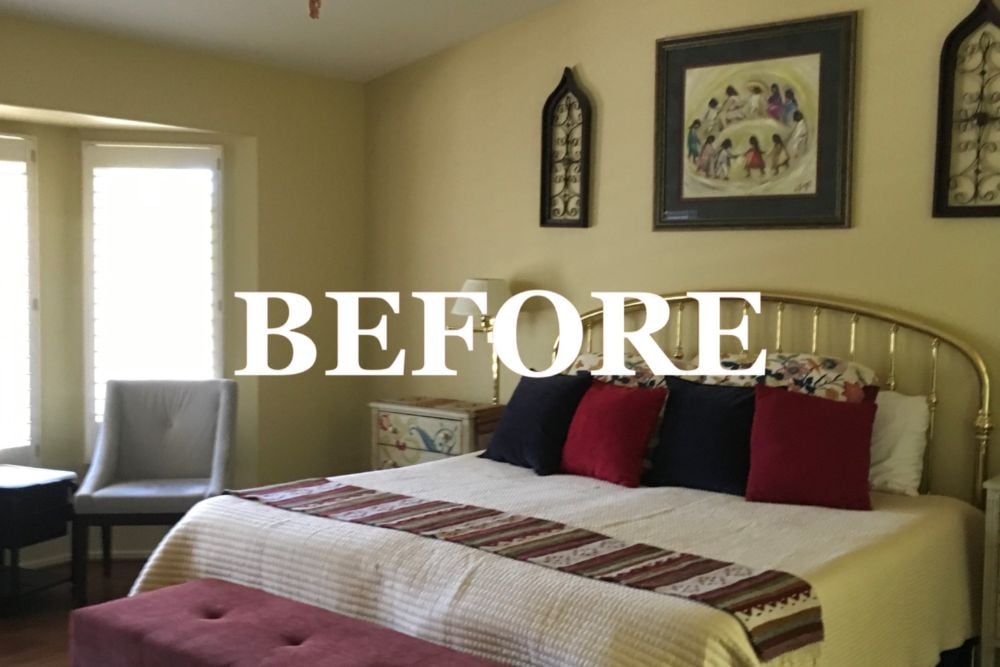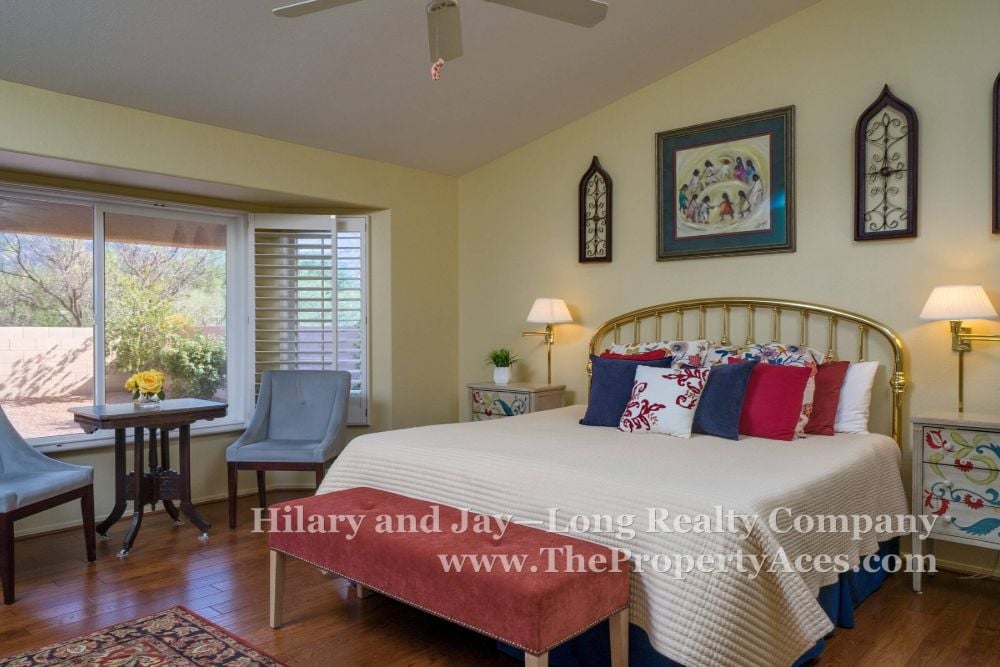 This room simply needed some of the large faux floral arrangements to be removed, some knick knacks removed and others added, bedding slightly adjusted, the oversize tapestry above the table to be swapped out for a mirror that was more to scale for the space and also reflected the mountain views. Add in our fabulous photographer and magic is made! 😉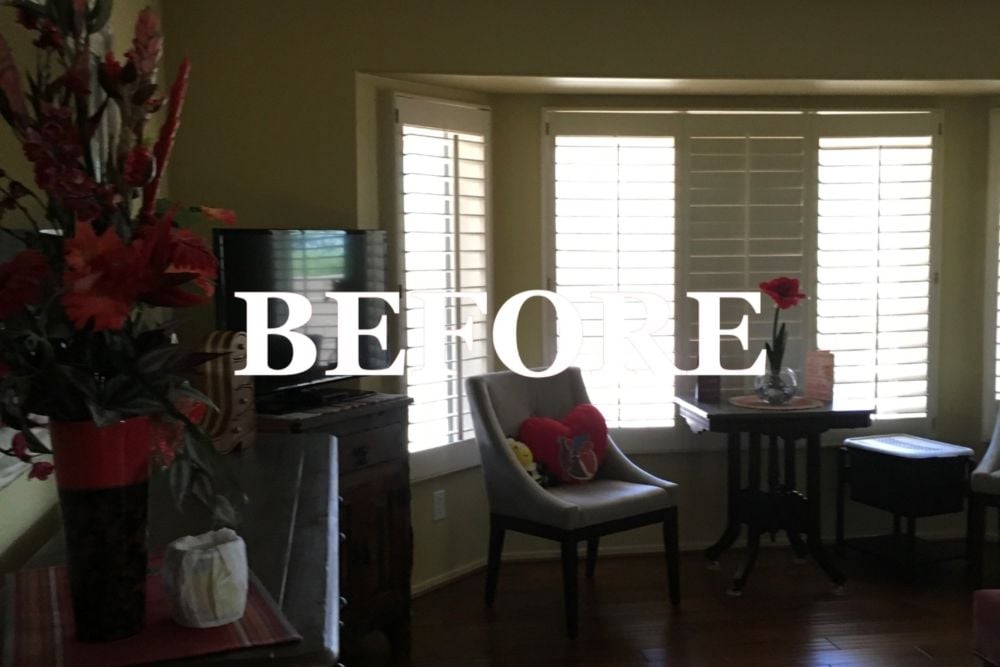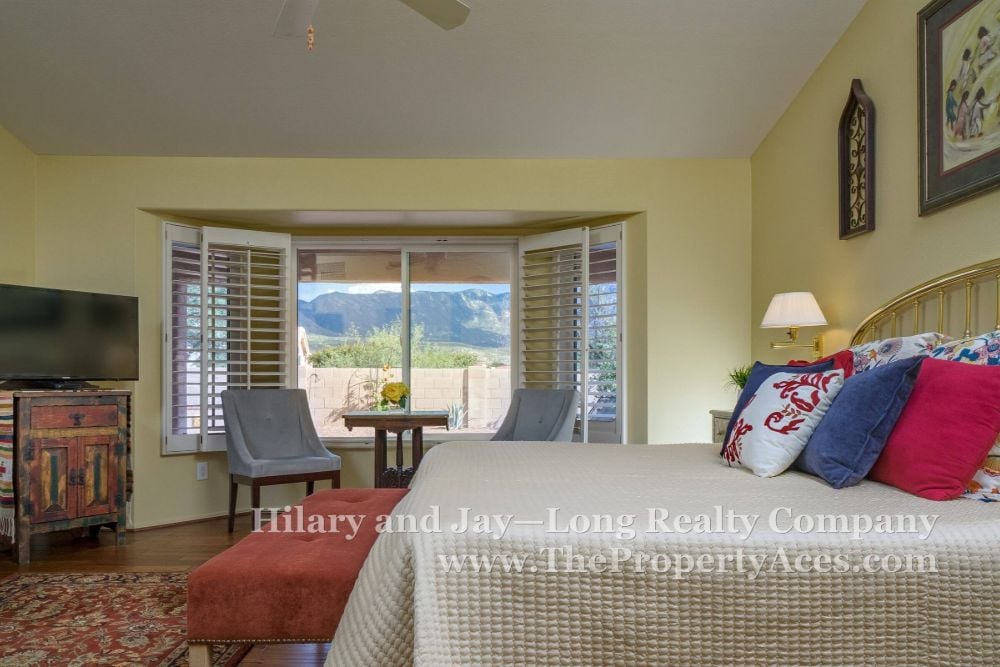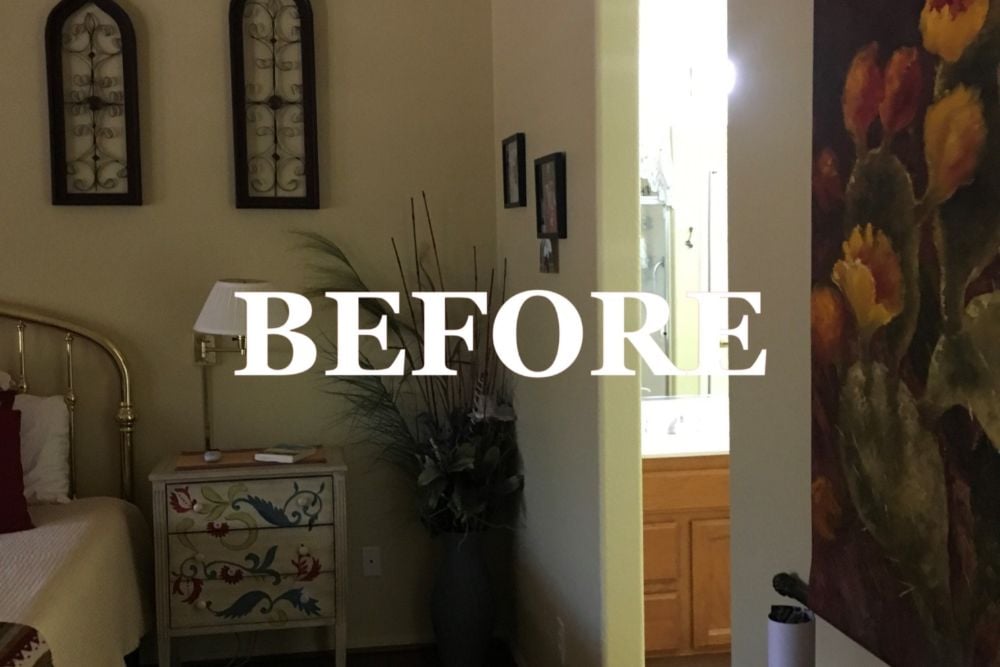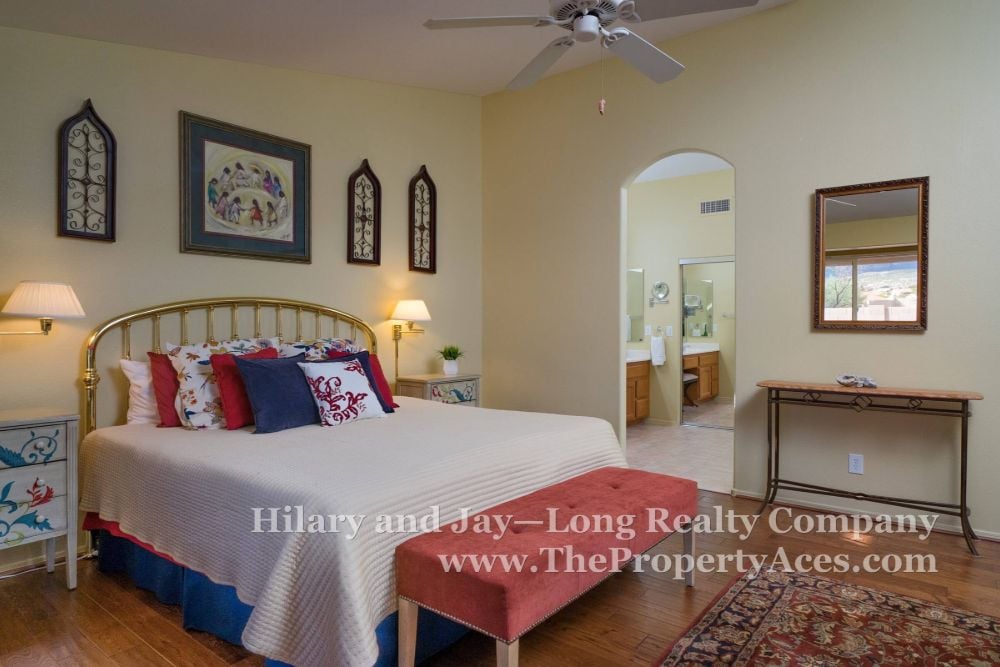 And while we are on the subject of what a difference a superb photographer makes—would you believe that even luxury homes aren't immune to agents who don't use professional photographers?? Don't let this happen to you!
And now, back to the staging! The below bedroom appeared too much like, well, a college student's bedroom—which is exactly what it was. There was no time for the client to have the lavender wall painted, so we tried to make it a little more digestible by adding bed linens, art and curtains.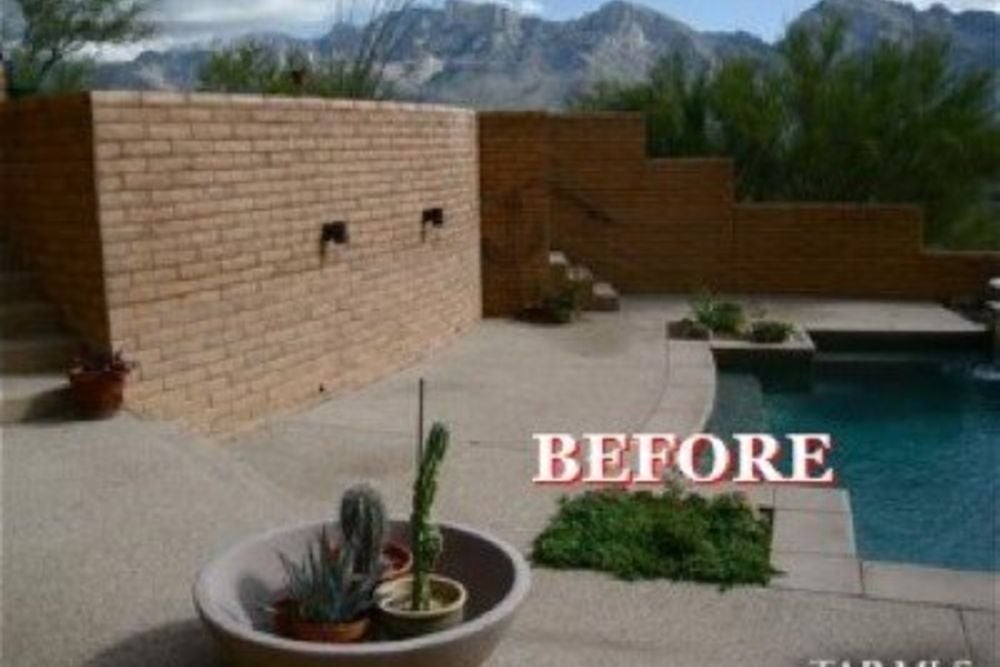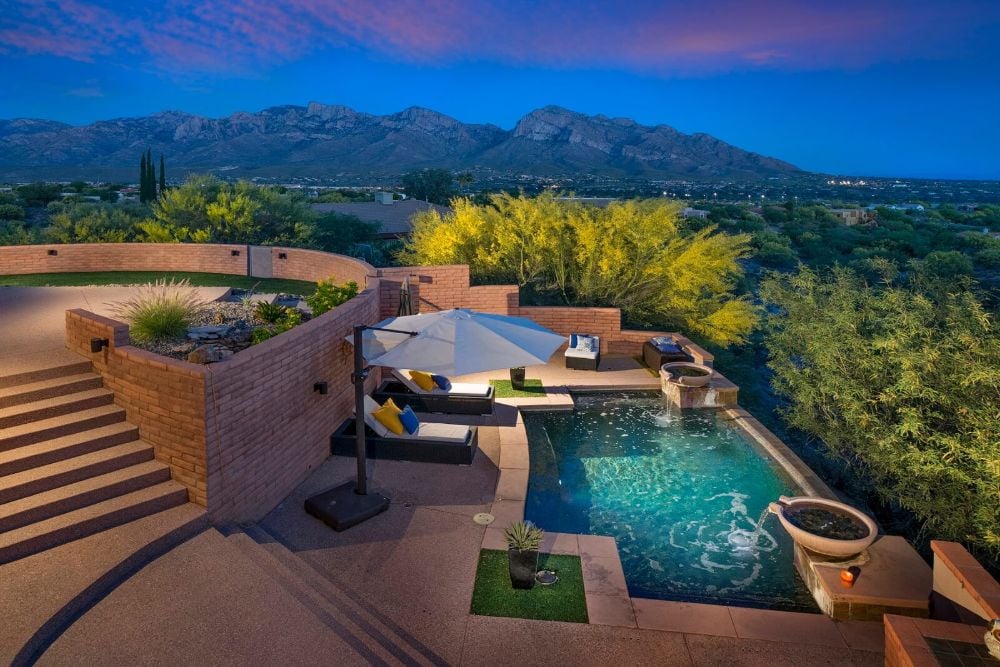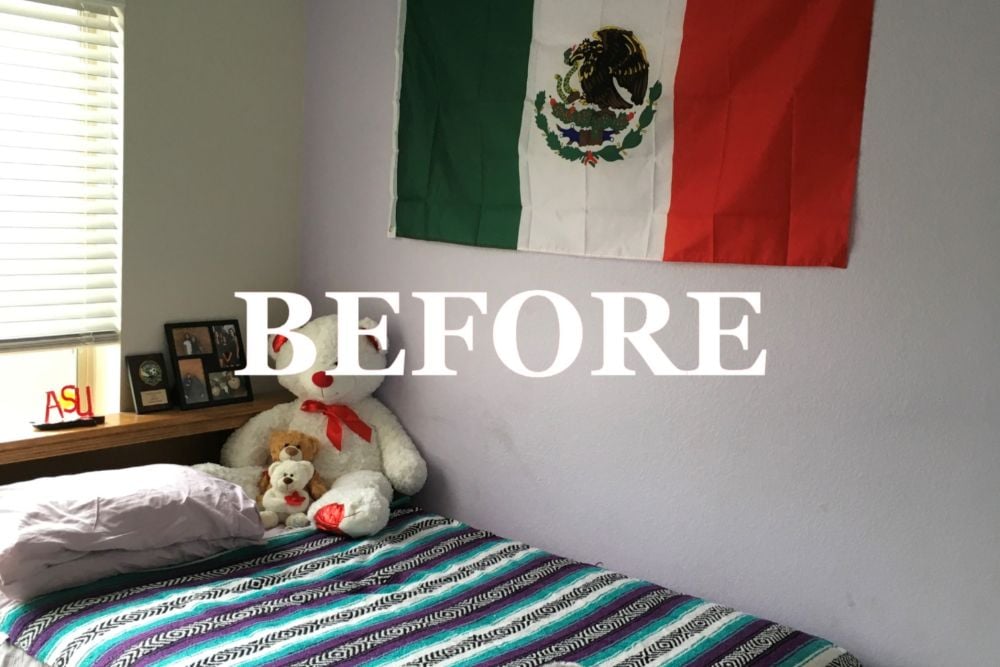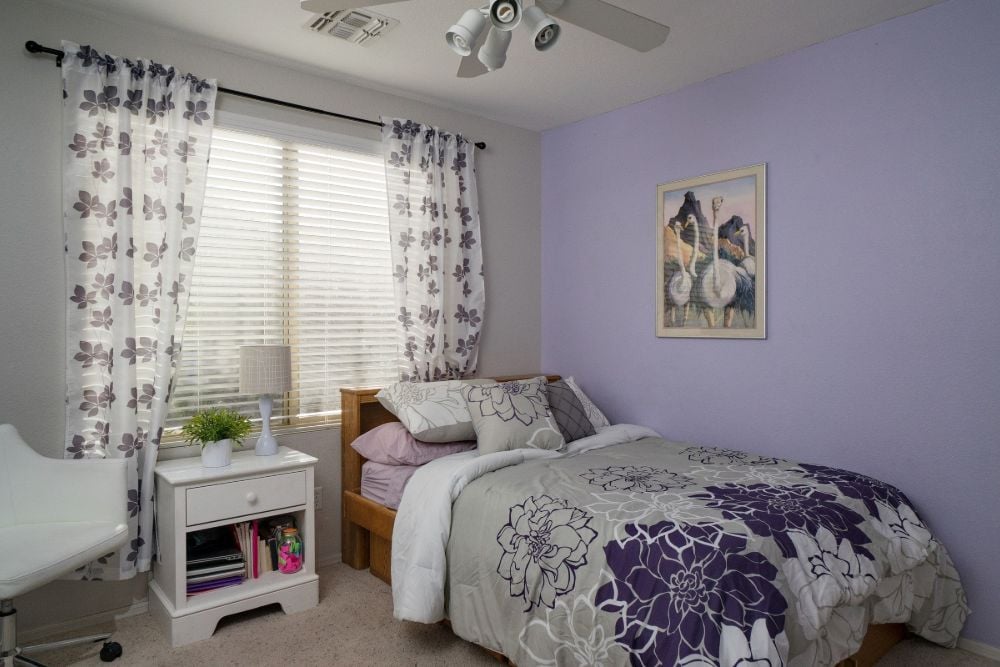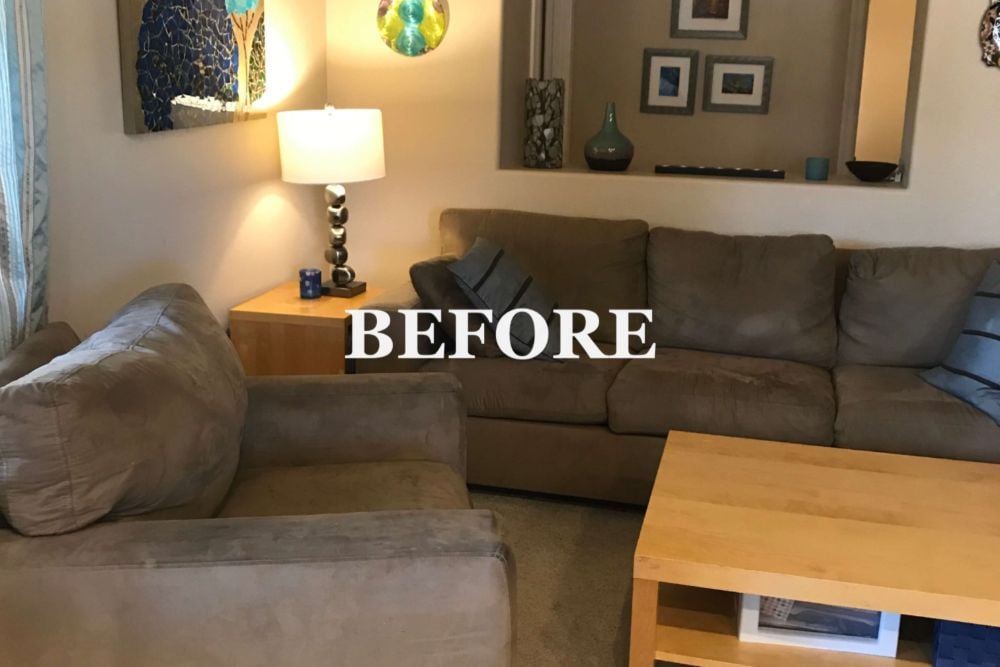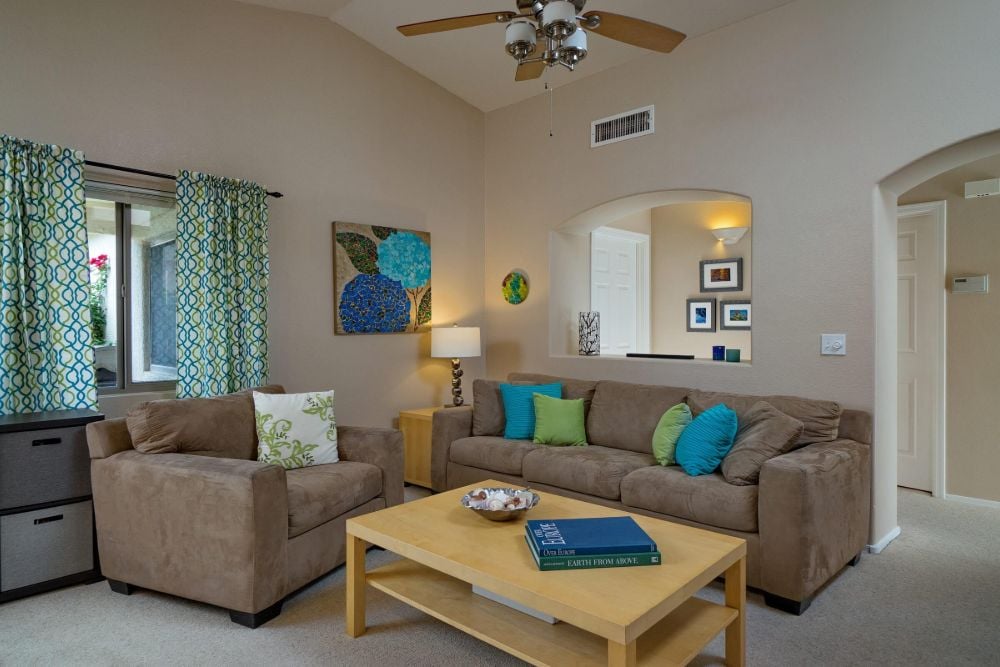 For this family room/kitchen area we built off the colors of some of the existing art that the client had already in place. We brought in some new colorful curtains and throw pillows to give the room some pop, and accented the kitchen with just a few items. The area now shows as a still occupied home, while appearing as a fresh and tidy living space. Of course, pro photography and ensuring pets are out of the way are crucial ingredients as well!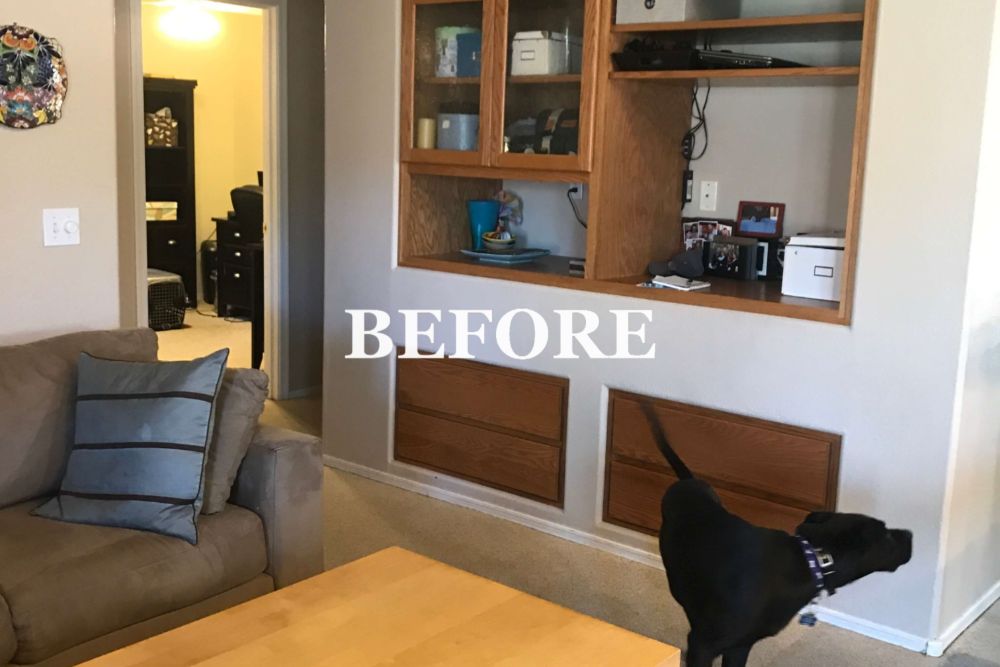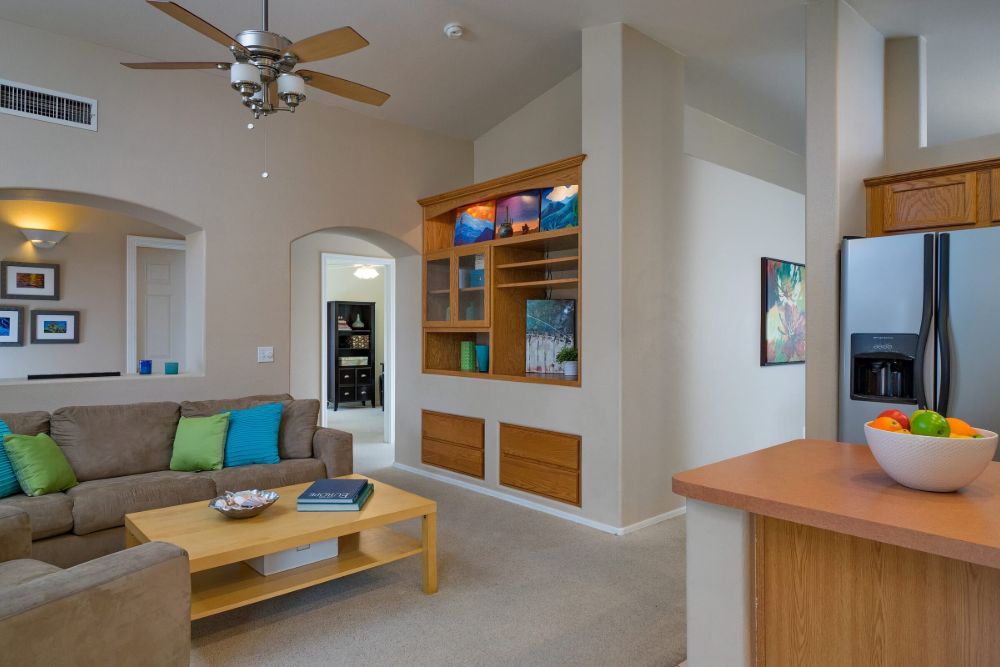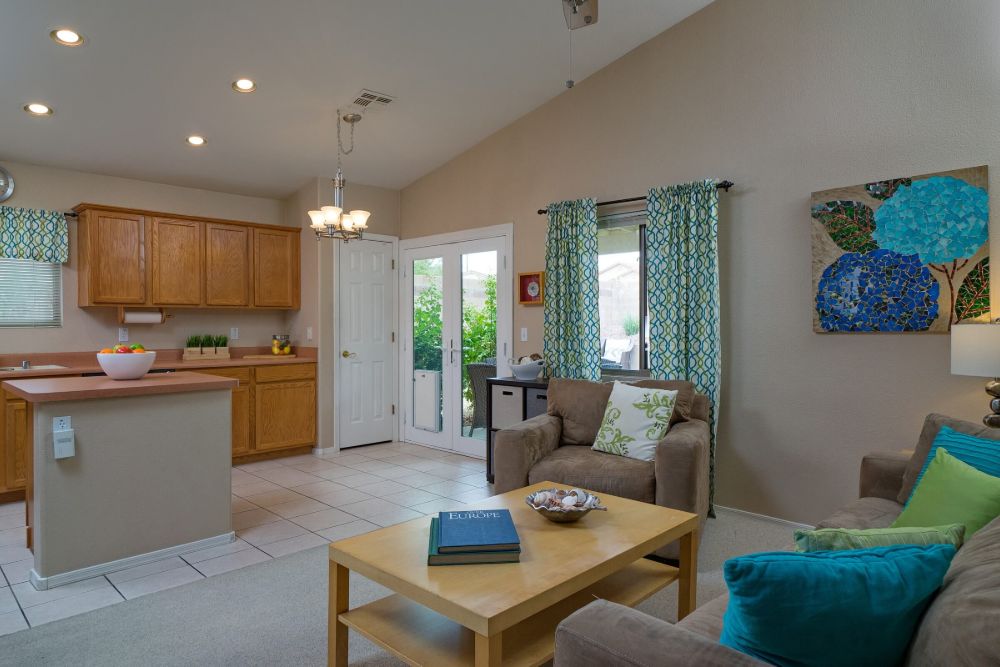 Below, you can see how other rooms in the home were transformed, using the clients items as well as pieces of art, plants, pillows and bed linens we brought in.